BLESSED MOTHER TERESA
Fighting Abortion Across the Globe
BLESSED MOTHER TERESA'S LETTER TO THE U.S. SUPREME COURT ON ROE V. WADE:
FILED BEFORE THE U.S. SUPREME COURT IN THE CASES OF LOCE V. NEW JERSEY AND KRAIL ET AL. V. NEW JERSEY IN FEBRUARY 1994 BY MOTHER TERESA.
EXCERPTS SELECTED:
"I HOPE YOU WILL COUNT IT NO PRESUMPTION THAT I SEEK YOUR LEAVE TO ADDRESS YOU ON BEHALF OF THE UNBORN CHILD."
"A special focus of our care are mothers and their children. This includes mothers who feel pressured to sacrifice their unborn children by want, neglect, despair, and philosophies and government policies that promote the dehumanization of inconvenient human life. And it includes the children themselves, innocent and utterly defenseless, who are at the mercy of those who would deny them their humanity."
"...no one in the world who prizes liberty and human rights can feel anything but a strong kinship with America. Yours is the one great nation in all of history that was founded on the precept of equal rights and respect for all human kind, for the poorest and weakest of us, as well as the richest and strongest. As your Declaration of Independence put it, in words that have never lost their power to stir the heart."
"...in a uniquely courageous and inspiring way, America has kept faith... yet there has been one infinitely tragic and destructive departure from those American ideals in recent memory. It was the Court's own decision in Roe v. Wade (1973) to exclude the unborn child from the human family. You ruled that a mother... has broad discretion, guaranteed against infringement by the U.S. Constitution, to choose to destroy her unborn child."
"If the right to life is an inherent and inalienable right, it must surely exist wherever life exists. No one can deny that the unborn child is a distinct being, that it is human, and that it is alive. It is unjust, therefore, to deprive the unborn child of its fundamental right to life on the basis of its age, size, (sex) or condition of dependency."
"It was a sad infidelity to America's highest ideals when this Court said that it did not matter, or could not be determined, when the inalienable right to life began for a child in its mother's womb."
"America needs no words from me to see how your decision in Roe v. Wade has deformed a great nation."
"The so-called right to abortion has pitted mothers against their children and women against men. It has sown violence and discord at the heart of the most intimate human relationships. It has aggravated the derogation of the father's role in an increasingly fatherless society. It has portrayed the greatest of gifts--a child--as a competitor, an intrusion and an inconvenience. It has nominally accorded mothers unfettered dominion over the dependent lives of their physically dependent sons and daughters. And, in granting this unconscionable power, it has exposed many women to unjust and selfish demands from their husbands..."
"Human rights are not a privilege conferred by government. They are every human being's entitlement by virtue of his humanity. The right to life does not depend, and must not be declared to be contingent, on the pleasure of anyone else, not even a parent or a sovereign."
"The Constitutional Court of the Federation Republic of Germany recently ruled that "The unborn child is entitled to its rights to life independently of acceptance by its mother; this is an elementary and inalienable right that emanates from the dignity of the human being. Americans may feel justly proud that Germany in 1993 was able to recognize the sanctity of human life. You must weep that your own government, at present, seems blind to this truth."
The entire document can be read at groups.csail.mit.edu/mac/users/rauch/nvp/roe/mothertheresa_roe.html
pinrest.com # 178595941442639449_RYe7DtEl.jpg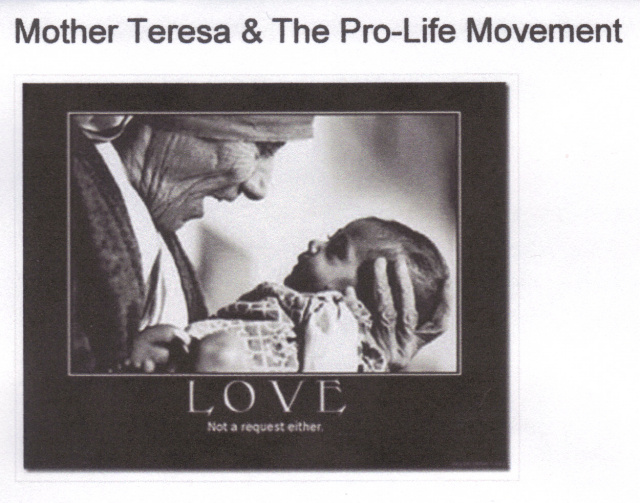 "Whatsoever You Do..."
Speech of Mother Teresa of Calcutta to the National Prayer Breakfast, Washington, DC 2/3/94 (quotes from this speech...)
"Whatever you neglected to do unto one of the least of these, you neglected to do unto me!" Jesus
"...I feel that the greatest destroyer of peace today is abortion, because it is a war against the child, a direct killing of the innocent child, murder by the mother herself.
And if we accept that a mother can kill even her own child, how can we tell other people not to kill one another?... the mother who is thinking of abortion, should be helped to love, that is, to give until it hurts her plans, or her free time, to respect the life of her child. The father of that child...must also give until it hurts..."
"By abortion, the mother does not learn to love, but kills her own child to solve her problems. And, by abortion, the father is told that he does not have to take any responsibility at all for the child he has brought into the world. That father is likely to put other women into the same trouble. So abortion just leads to more abortion."
"Any country that accepts abortion is not teaching its people to love, but to use violence to get what they want. This is why the greatest destroyer of love and peace is abortion."
"...for this I appeal everywhere - 'Let us bring the child back.' The child is God's gift to the family... every child has been carved in the palm of His Hand - from conception and is called by God to love and be loved, not only in this life, but forever. God can never forget us..."
"...By adopting a child, couples receive Jesus but, by aborting a child, a couple refuses to receive Jesus..."
"Please don't kill the child. I want the child. Please give me the child. I am willing to accept any child who would be aborted and to give that child to a married couple who will love the child and be loved by the child."
"I know that couples have to plan their family and for that there is natural family planning. The way to plan the family is natural family planning, not contraception...once living love is destroyed by contraception, abortion follows easily...never bring in the worst problem of all, and that is to destroy love. And this is what happens when we tell people to practice contraception and abortion."
"Let us make one point - that no child will be unwanted, unloved, uncharged for, or killed and thrown away. And give until it hurts - with a smile."
"...America can become a sign of peace for the world. From here, a sign of care for the weakest of the weak - the unborn child - must go out to the world. If you become a burning light of justice and peace in the world, then really you will be TRUE to what the founders of this country stood for. God bless you!"
For the entire text of Blessed Mother Teresa's speech please go to priestsforlife.org/brochures/mtspeech.html
There is also an audio MP3 format to download and can also be read in Spanish.
PRO-LIFE QUOTES FROM BLESSED MOTHER TERESA
"Any country that accepts abortion is the poorest of the poor..."
"It is a poverty to decide that a child must die so that you can live as you wish..."
"And if we can accept that a mother can kill her own child, how can we tell other people not to kill one another?..."
"Be humble like Mary so that you can be holy like Jesus..."
"We must not be surprised when we hear of murders, killings, of wars, or of hatred... If a mother can kill her own child, what is left but for us to kill each other?"
"That special power of loving belongs to a woman is seen most clearly when she becomes a mother. Motherhood is the gift of God to women. How grateful we must be to God for this wonderful gift that brings such joy to the world, women and men alike! Yet we can destroy this gift of motherhood, especially by the evil of abortion, but also by thinking that other things like jobs or positions are more important than loving, than giving oneself to others. No job, no plans, no possessions, no idea of 'freedom' can take the place of love. So anything that destroys God's gift of motherhood destroys His most precious gift to women--the ability to love as a woman."
"Abortion kills twice. It kills the body of the baby and it kills the conscience of the mother. Abortion is profoundly anti-women. Three quarters of its victims are women: Half the babies and all the mothers."
Christian Works by Dorothy Kardas, Psy.D. Th.D.
© Copyright 2012- 2023 All rights reserved Christian Works by Dorothy Kardas